Unforgettable
Anyone who has stayed at Teach Aisling (Irish for Dream House), an eloquently refurbished farmhouse has been awestruck by the peace and tranquillity the house and surrounding land offers. Teach Aisling is located on 5.5 acres of private land, is adjacent to Kindrum Lough and has private walks around the beautifully rugged private gardens . The area is a special area of conservation (SAC) and the wildlife is spectacular, including Golden eagles, buzzards, otters and foxes in the area. The best fishing location on the lake is just a stone's through from the house – the lakes contain brown trout, rainbow trout and wild Atlantic char. A boat and buoyancy aids are available to hire along with fishing rods. TeachAisling is a 5 minute drive from the beach and the Atlantic ocean. The Fanad Peninsula has some of the most beautiful coast line in the world.
---
Inside Teach Aisling you can relax among a range of antiques and relics contained within the house offering a historical atmosphere before strolling in the garden, visiting the magnificent lake or heading off to enjoy the many wonderful views in the Fanad Peninsula. Why not give it a try, anyone who stayed at this wonderful location has returned again and again.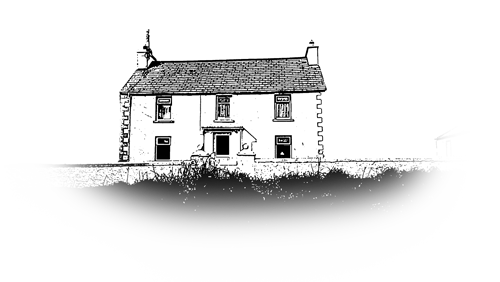 ---
Teach Aisling has four large bedrooms beds (three double beds and two single beds with room for more), is centrally heated and has a kitchen and dining area with all required cooking facilities, a reading room and a leisure room with open fire (logs and turf available to ensure you are warn and cosy) along with a bathroom and a shower unit.
---